Today I'm continuing on with my Pet Adoption week! :o) I read that today is Hug Your Cat Day. Here, every day is Hug Your Cat Day [or maybe Annoy Your Cat By Hugging Him All the Time Day]! :D Here's the card my little guy inspired for today's blog post...
:o)
I loved making this card!! I wanted to customize the adorable cat die-cut a little bit, so I added some hand-stitching. The yarn ball has four lines printed on it, so I just used my paper piercer to make holes along those printed lines. :o)
The paper and cat die-cuts I used on today's card and yesterday's card are from Simple Stories' Cat collection! I absolutely LOVE this collection, as well as the Dog collection!
CUTE overload!!
I mentioned a few months ago that when I looked at CHA product previews online, I was most excited about Kaisercraft's Hello Sunshine collection. I admit that I hadn't looked at any of Simple Stories' product previews, but if I had, I would've been most excited about these two collections right along with the Hello Sunshine stuff. I'm actually glad I didn't see their previews because I would've annoyed myself with my impatience. Ha! There's just something about charming animal images that make crafting even more fun for me. :D I absolutely love the way the cats and dogs were illustrated for these collections -- they're so joyful! :o)
I realize that I didn't mention what stamps I used for my sentiment on yesterday's card, though you may have already guessed! I used the Milo's ABCs stamp set that Lawn Fawn sent over -- isn't that a great alphabet? Thank you, LF!

And now for some pet adoption links! :o) If you have a blog or web page and want to help spread the word about adoption, Adopt-a-Pet has great options on this page, and Petfinder has great options on this page!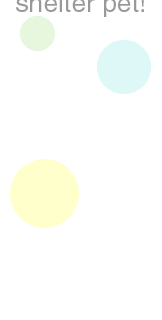 Thanks for stopping by today!