This is my second post for today -- click here for my other post, or simply scroll down! :o)
Here's a set of mini cards I made in honour of pet adoption!
:o)
I found this super-cute animal sticker book at Michaels a long time ago, and these adorable animals are all from that sticker book. The sentiment and stamp of three dashed lines [which I used as faux stitching again] are from Lawn Fawn's Hello Baby stamp set.

I have these links in my sidebar, but I thought I would share them in my post because it occurred to me that folks who get my posts via e.mail don't see my sidebar!
Here are some ways you can help shelter animals with a few clicks!

Each day, Freekibble and Freekibble Kat post a new trivia question. Click to answer the trivia question, and 10 pieces of kibble will be donated to an animal shelter! You don't have to answer the trivia questions correctly in order for the food to be donated -- you just have to try by clicking!
They also have super-cute e-cards that you can send for free to help spread the word!
By clicking on the purple button on The Animal Rescue Site, sponsors will donate food to help animals! Click here to see the results of these clicks and the good that's been done. Help spread the word about The Animal Rescue Site with a graphic from this page!
You can also help animals by shopping at The Animal Rescue Site Store!
Vote for your favourite animal organization and help them win monetary prizes -- you can cast one vote per day! One of my very favourite sanctuaries, Rolling Dog Farm, has won money because of people voting for them, so it really does work! :D
Help spread the word about Petfinder with a widget or graphic from this page!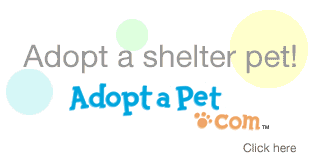 Help spread the word about Adopt-a-Pet with a widget or graphic from this page!

Thanks for visiting during my Pet Adoption week! It means a lot!